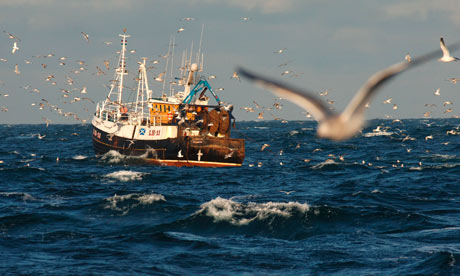 from: G. Monbiot
guardian.co.uk, Monday 8 August 2011
About half of humanity is living within 200 km away from the sea. Thus for many "sea" or "ocean may be a word, may be
picture
, but may not be an experiences - neither in work nor in leisure, be it
fishing
or
beach combing
. However we humans live from the sea - and lived from it certainly since
neolithic times
. Today we humans consumed daily about 40g fish and fisheries products of which little less than half is coming from
aquaculture
. Without fish our nutrition balance is in danger in particular in low-income food deficit countries (
LIFDCs)
where 2006-2009 about 19% of total animal protein intake is ensured by fish and fisheries products.
Its a known hazard that we are
plundering
the sea to death. Non-sustainable fishery and pollution destabilize marine ecosystem, of which
Algae blooms
,
oxygen deficit zones
are a warning signs. Beyond that plundering the sea puts at risk our food and our economy too. Thus for those of us, for whom the environment is a second concern after economy some food for thought:
More at: http://www.illegal-fishing.info/
According to key messages, distilled by
Mundus Maris
from the so the 2010 State of Fisheries and Aquaculture report of FAO, an estimate of 118 million tons fish were used for human consumption in 2009. That is an important part our "daily bread" as the global average of fish and fisheries products consumption (17 kg / capita in 2009) indicates not-withstanding that many people do not have access to fish and fish products. Additional 27 million tons fish were used for non-human use, mostly for fish meal and oil that is often re-used for aquaculture.
Some 20 million tons of fish were caught illegally, unregulated or unreported. The damage created by these illicit activities were estimated in the range of US$ 10 and 23.5 billion annually or 10 % to 25% of the value of global fishery at first sales point (2006 of US$ 91.2 billion).
Oxyrhynchus: Egyptian Fish God
According to the same report, more than 40 million people work full-time, part-time or occasionally in fish production (fisheries and aquaculture). Perhaps as many as four times more people work in activities associated with fishing and aquaculture (boat building and repair, making and repair of gear, feeding and tending in aquaculture, post-harvest handling of fish, marketing). Women play an important role in both the catching and culture sectors, mostly as entrepreneurs and laborers in pre- and post-harvest activities. Assuming that three other dependent family members take advantage of the sector, this adds up to more than half a billion people, close to 8% of the world population who's living depend directly on fishing and aquaculture. Their income and thus their life is threatened if we plunder the sea to death - triggering
a thrilling flow of events
.
Martin.Mundusmaris@gmail.com
info@mundusmaris.org
p.s. Some pictures use in this blog are from IMAGGEO on-line open access geosciences image repository of the European Geosciences Union, of which I'm member.